[ad_1]

Cobra Kai's Peyton List endorses a popular theory involving her character, Tory, and Samantha. The hit Netflix series might've wrapped up its most recent installment back in September, but Cobra Kai season 5 has continued to draw a lot of discussion for the way that it concluded on a hopeful note by essentially ending all its major rivalries. By the time the finale rolled around, Daniel and Johnny were buddies. Miguel and Robby were joking around as future step-siblings. Even in the case of Tory and Sam, the former enemies were able to set aside their animosity for the greater good.
While promoting her new movie The Friendship Game, List answers some questions for BuzzFeed. When asked about whether Tory and Sam could ever really be friends, List begins by saying she initially agreed with her co-star, Mary Mouser, who plays Sam, that the two will never be pals. Still, as she elaborates, she expresses a more nuanced view of their relationship and ultimately reacts favorably to a long-standing Cobra Kai theory:
At first, I remember being with Mary and someone asked that question. I cut her off and was like, "No, sometimes there's people who will just never be able to be friends. There's just too much that's happened." But I was younger when I started the show and when I said that. Now that time has passed, I've realized how things can heal and change and how petty boy problems can be. I mean, it was more than that too. Obviously, she accused [Tory] of stealing and all kinds of horrible things.

But I think that it can be put aside because they've been through a lot together. Someone recently commented something that I really thought was interesting. It was a fan, and he said, "It seems like these girls are just fighting over these boys to get each other's attention. It's almost more about each other than it is about the boys." And I was like, "Well, at the end of the day, maybe they just really like to fuck with each other. Maybe they just really like each other." Not in a romantic way, but like they would be such a badass friendship pair.
Related: Cobra Kai: What Fighting Style Sam Used Against Tory
Can Tory & Samantha Be Friends In Cobra Kai Season 6?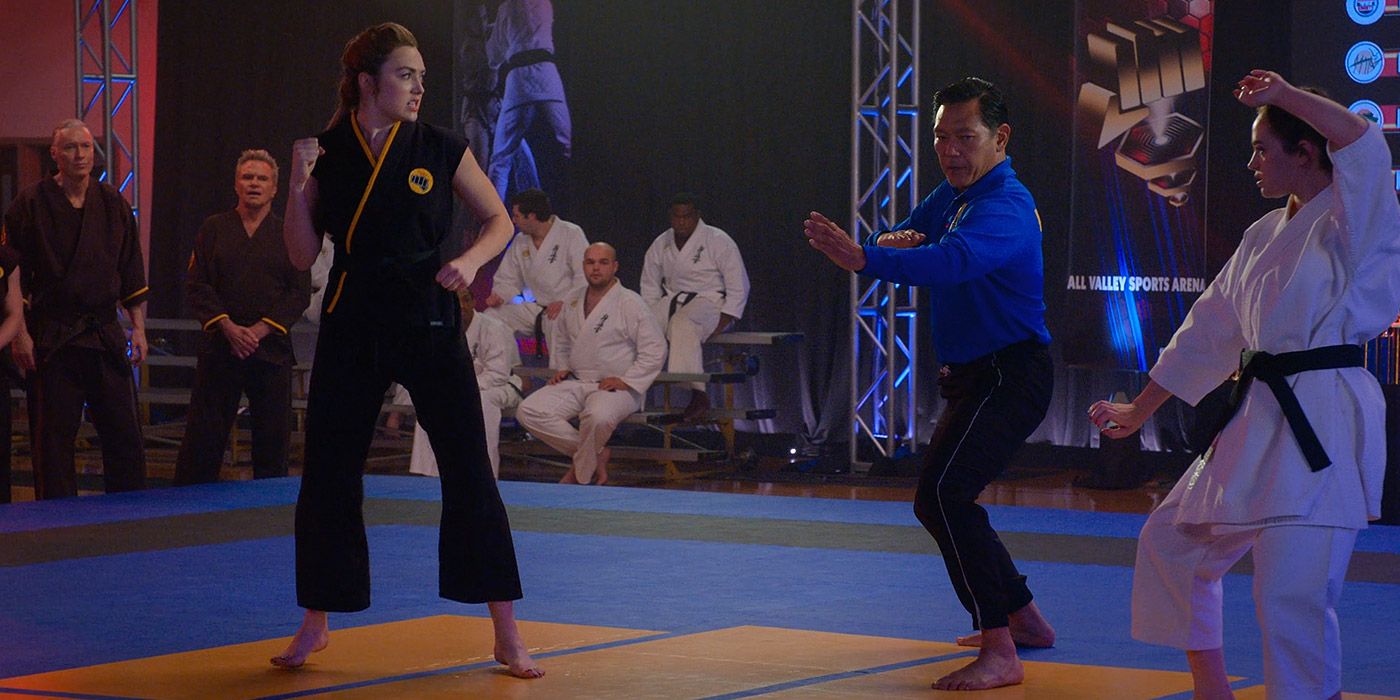 Interestingly, even though other former rivals seem especially at ease with one another, Cobra Kai doesn't let Sam and Tory quite get there. They're still tense, and they never really have any sort of clarifying conversation about their past. In contrast to Miguel and Robby, it's more that they seem fine enough that they're willing to work on the same side. The flip side of that is old animosities could flare up once they no longer have a reason to be partners, and as List indicates in her remarks, they certainly have good reasons to carry all that bad blood.
Though it has yet to be renewed, Cobra Kai season 6 has received optimistic updates from the cast. At this stage, it sounds like the dojo drama is likely to return, even if the official announcement hasn't occurred yet. If that does happen, there's little indication of where the story will go outside how Kreese has escaped prison. It could be the case that the writers will revive at least some of the old feuds. Or, alternatively, perhaps new Cobra Kai characters will be introduced as a new source of conflict.
Another factor to consider is whether, as has been hinted, Cobra Kai could be ending soon. From the perspective of narrative satisfaction, it would be cool to see the protagonists actually getting along and evolving their bonds as the Karate Kid continuation prepares to sign off. In any case, the popular reading of Sam and Tory's relationship contains depths that are worth exploring.
More: Cobra Kai's Sekai Taikai Can Actually Settle The Daniel Vs. Johnny Debate
Source: BuzzFeed
[ad_2]

Source link