[ad_1]

Warning: Contains SPOILERS for The Handmaid's Tale season 5, episodes 1-10.The Handmaid's Tale season 5 features a soundtrack full of significant music choices, inspiring the analysis of each song selection and when and why they occur in each episode. The fifth season of the award-winning adaptation follows the fallout of June Osborne's revenge — aiding in the killing of Fred Waterford, the Commander of Gilead and the head of the household where June formerly was an enslaved handmaid. The soundtrack for The Handmaid's Tale season 5 complements the story with an eclectic mix of music.
The show's use of music has impressed over the previous four seasons, ranging from David Bowie to Aretha Franklin and Nina Simone to Kate Bush, using tracks to heighten intensity or provide contrast to the on-screen action. Here is every song continuing the soundtrack for The Handmaid's Tale in season 5, broken down by episode.
Related: The Handmaid's Tale Season 5, Episode 1 Ending Explained
Episode 1 – "Morning"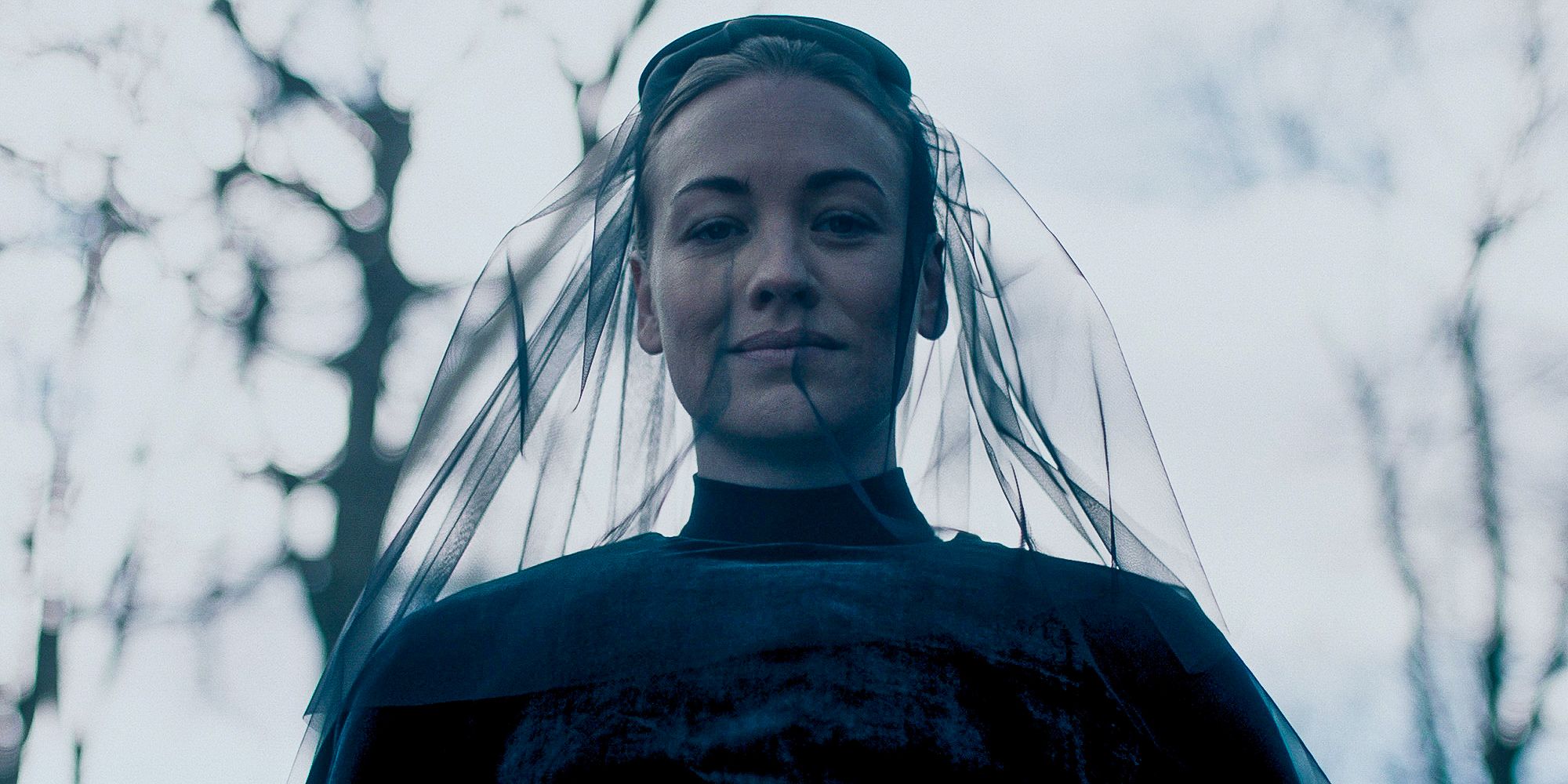 "All I Have to Do is Dream" by The Everly Brothers – This song plays in season 5 of The Handmaid's Tale as June is sitting in the bathtub reveling in the memory of killing Fred. It's a scene reminiscent of Lady Macbeth feebly trying to rinse the blood from her hands. Both of them, of course, did more than dream. They made their dreams of revenge and power come true.
"Canto De Zinha" by Simone Giuliani – This obscure track plays during a flashback scene in which Serena Joy and Fred Waterhouse dance at a gathering. It's a tense, almost grating strings number by the artist better known as 4MuLA. It also previously was played in an earlier episode of The Handmaid's Tale.
"Gettin' Happy" by Dolly Parton – This song by country queen Dolly Parton is an odd choice for the scene where June and her co-conspirators get together to celebrate their revenge over Fred. But its lyrics highlight the contrast between familiar romance tropes in stories and the vision of Margaret Atwood's characters who pursue their own happiness by taking revenge on the patriarchal systems of oppression that have held them down.
Episode 2 – "Ballet"
"All I Have to Do is Dream" by The Everly Brothers – Calling back to episode 1, this song returns on the soundtrack of The Handmaid's Tale season 5, episode 2. This time, it plays as June lays in bed and is treated to a montage of all the ways the villain Serena mistreated her. Her revenge-filled present gives way to the dreams of an unpleasant past.
Related: The Handmaid's Tale Season 5, Episode 2 Ending Explained
"Always My Forever" by Mike Mains – This song plays as June, Luke, and their friends play Scrabble at their house in Canada. During the game, June suffers more flashbacks to the past. Luke tries feebly to comfort her.
"Lament for the Death of his Second Wife" – Performed by studio musicians, this rendition of the most famous tune by Scottish fiddler Niel Gow is heard in episode 2 during the wake for Fred Waterford. The plaintive melody stands in contrast with Serena's cunning agenda as she manages to host the wake and funeral for her late husband as extravagant public affairs. There is a lot going on at the wake, including a kind of peddling for attention by Aunt Lydia and her handmaiden Esther.
"The Sleeping Beauty, Op. 66, Act 1, The Spell" – This plays during the ballet June and Luke attend. They attempt to get their minds (mostly June's) off of Fred's revenge killing and June's painful flashbacks. However, when they leave the theater, they are confronted with Fred's funeral being broadcast on big screens.
Episode 3 – "Border"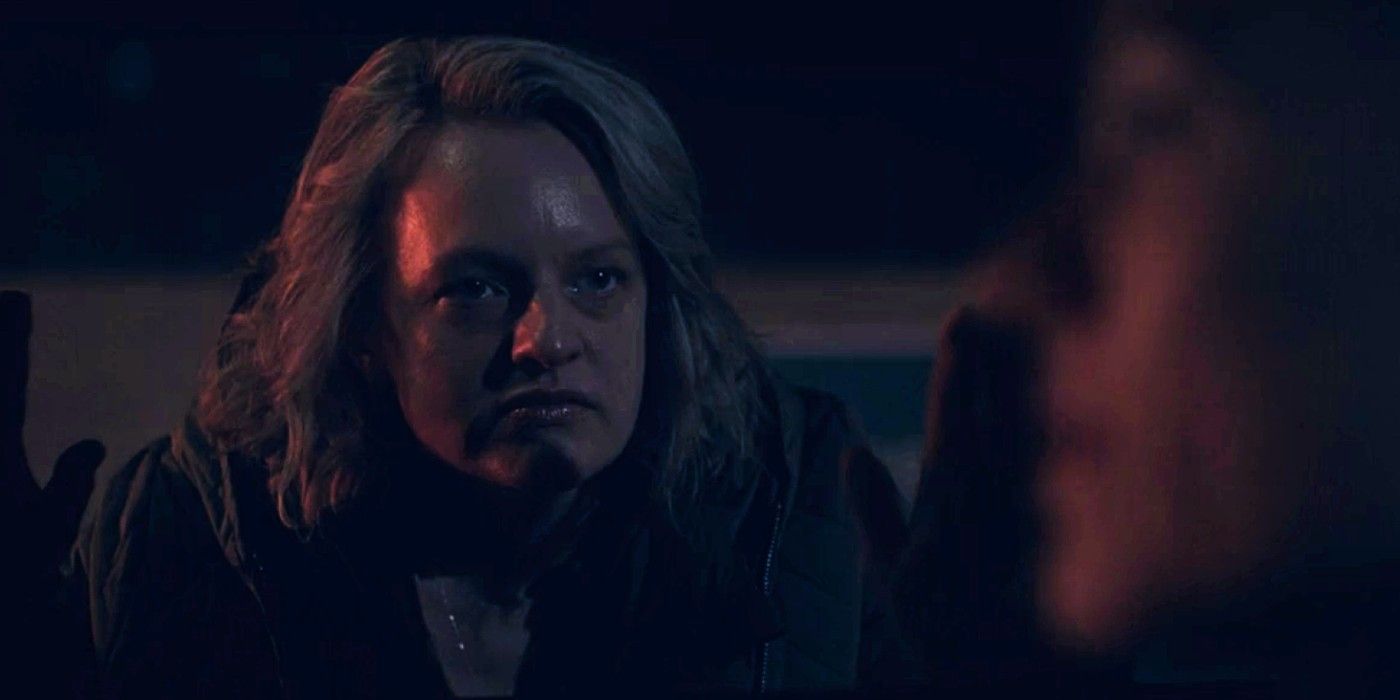 "Mirror Image" by Trey Wright – This plays when Serena attends Commander Lawrence's dinner party with Commander Mackenzie and his wife. There the group discusses everything from exports to Agnes, ending with Serena strongly hinting that she and Lawrence get married, given how dimly Gilead views single men in positions of power. This was the only featured song in episode 3, with the focus on a powerful dramatic score instead.
Related: Does Hannah Become A Wife? What We Know Of Her Handmaid's Tale Future
Episode 4 – "Dear Offred"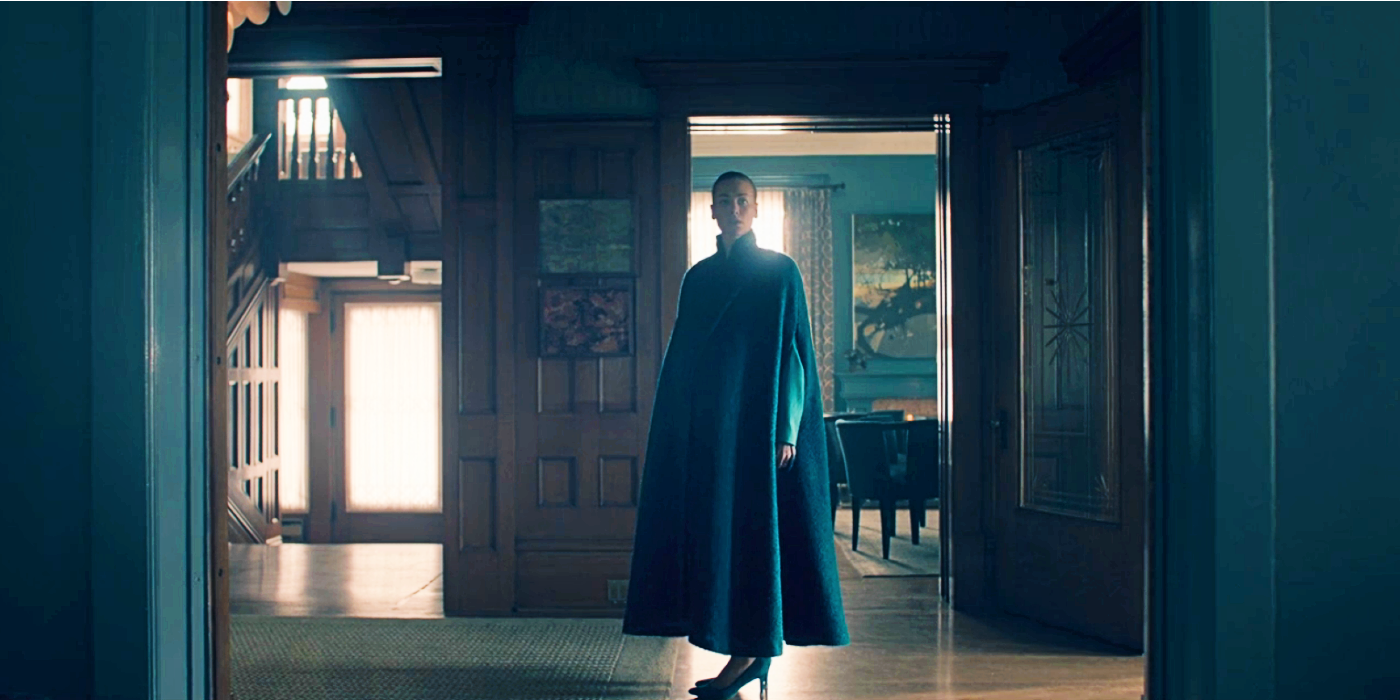 "The Chain" by Kerala Dust – This cover of the famous Fleetwood Mac song overlaps two scenes in The Handmaid's Tale season 5 episode 4. A battle begins to rage outside of Serena's new home outside of Gilead, and June has made sure to bring a gun. After escaping, she and Luke manage to get to the car where he asks to see her gun. Finally happy that the two are on the same page, the song begins to play as they make love. Then, the tune overlaps as Serena is taken in an SUV back to her new home, where Ezra and Alanis are waiting for her. The electronic score perfectly accompanies June and Luke's reigniting passion for one another while also lending a sense of foreboding to Serena's scene.
Episode 5 – "Fairytale"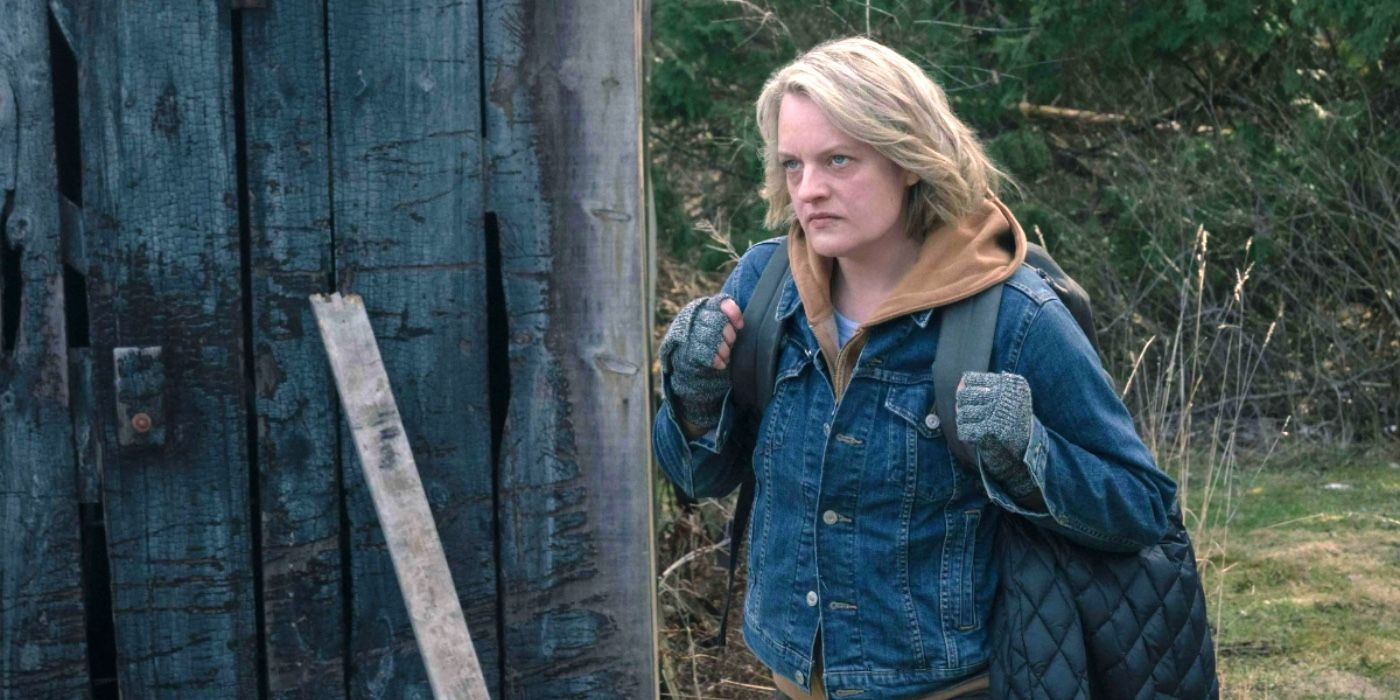 "Let's Stay Together" by Al Green – This tune appears twice in The Handmaid's Tale season 5, episode 5. First sung by Luke and June, and secondly when the original song plays. While Luke and June search for answers about Hannah they meet a Guardian named Jaeden, who passes them intel inside a defunct bowling alley. Since the two cannot make safe passage out at first, they are stuck with the Guardian overnight in the bowling alley. In a brief interlude from the chaos of the episode, Luke decides to play "Let's Stay Together" on the alley organ while June dances to the music. The song can be heard again over the end credits. The song acts as a sweet break in an episode that only heats up as it moves forward.
Episode 6 – "Together"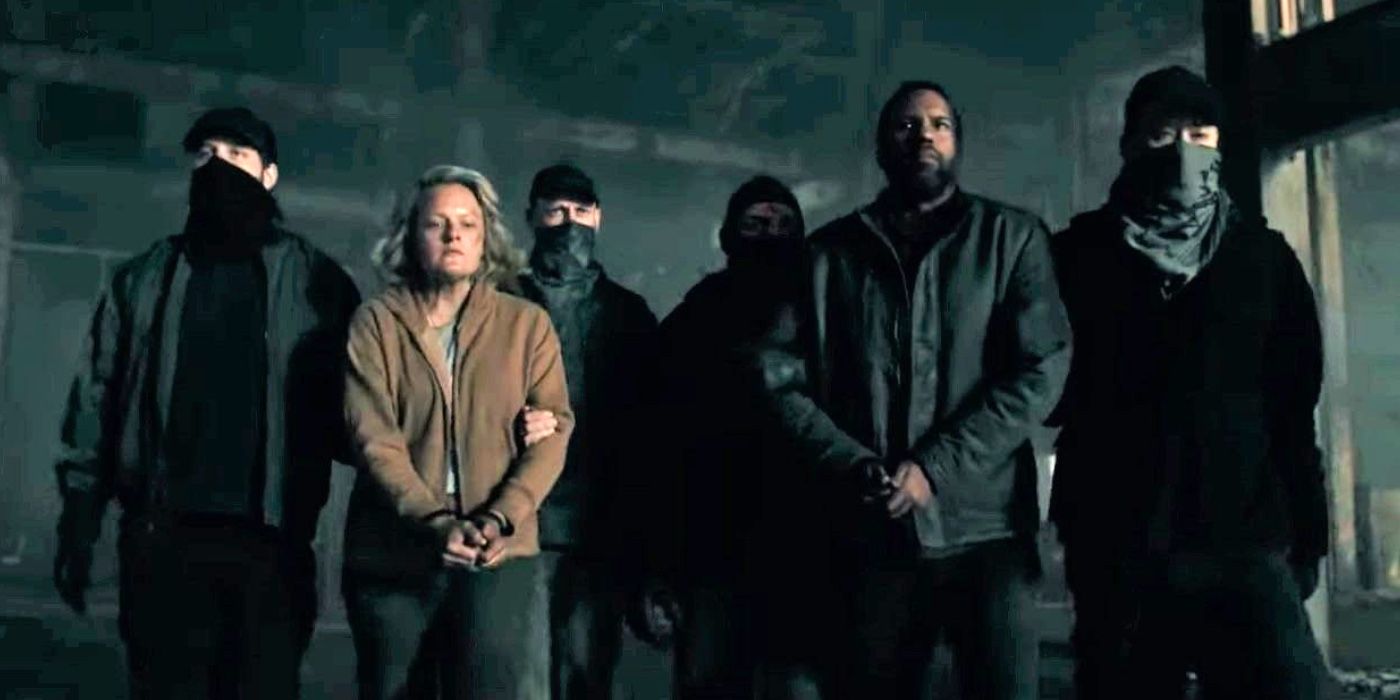 "Piano Sonata No. 8 in C Minor, Op. 13, Pathetique: II. Adagio Cantabile" by Jeno Jando – The Handmaid's Tale season 5, episode 6 is quite a doozy, with a lot going on very quickly. In addition, the episode turns the narrative on its head when audiences see Serena actually shoot Ezra over June and load her into a car at gunpoint. The piano sonata plays during a scene of entrapment. Aunt Lydia finds out that Putnam got Esther pregnant by rape and proceeds to tell Commander Lawrence. Lawrence then invites Putnam and Nick over to his house for whiskey and cigars, where they congratulate him over his new baby. It's during this scene that the one and only song of the episode plays. Putnam gets his just desserts when Nick shoots him dead after he's dragged out of a restaurant by Guardians.
Episode 7 – No Man's Land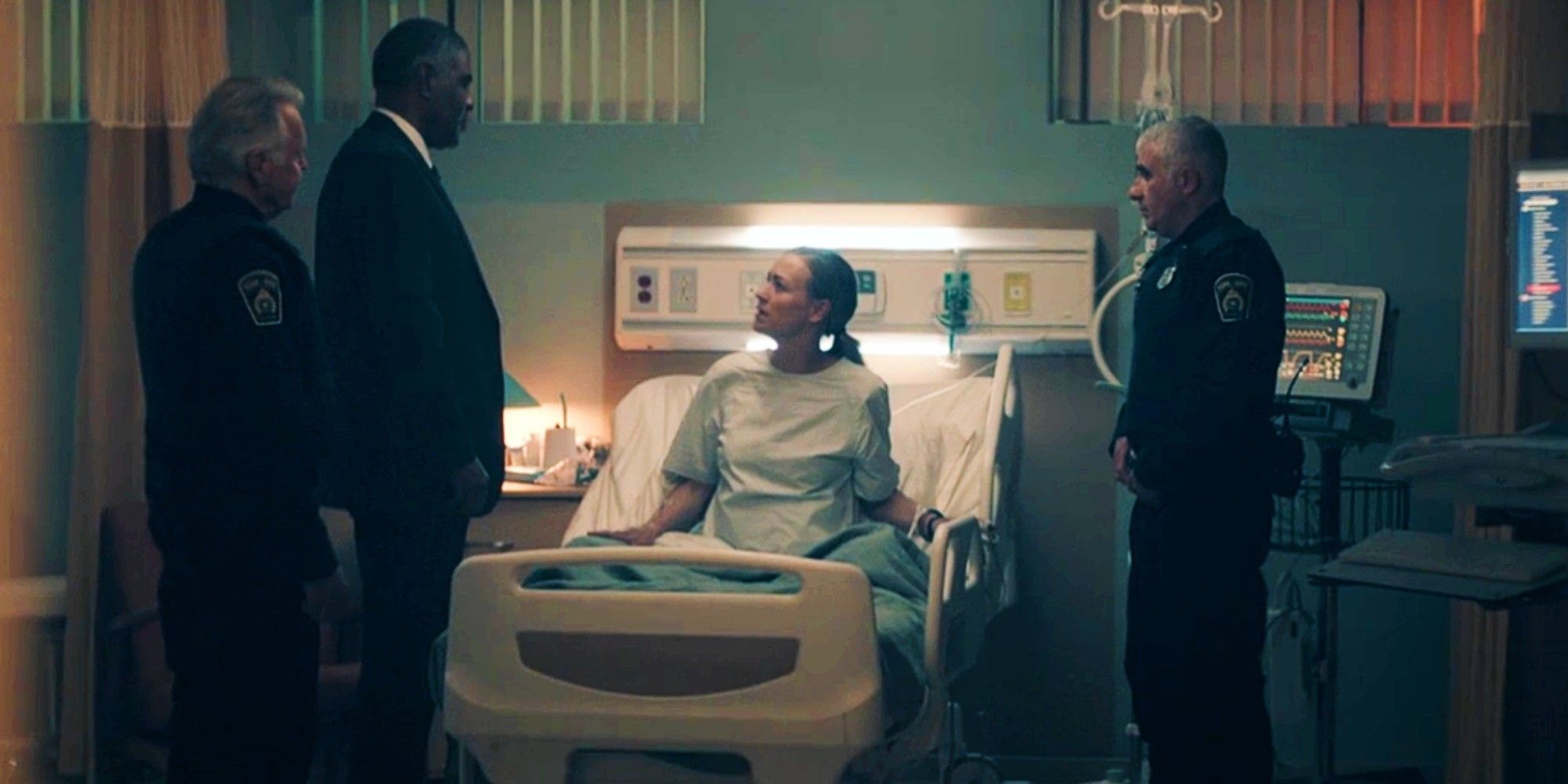 "Abide With Me" by Libera – The Handmaid's Tale season 5 episode 7 opens with episode 6's cliffhanger of Serena and June in a car. Their relationship changes as Serena quickly goes into labor, which causes her and June to seek shelter in a nearby barn, so she can have her baby. While June tries to help, Serena pushes her away, causing June to leave and declare that Serena can just do it on her own then. June tries to move her car out of the ditch and has a flashback where "Abide With Me" plays in the background of The Handmaid's Tale. In the flashback, she, Serena, and the other handmaids are attending Ofclarence's birthing ceremony. The baby is delivered alive, but Ofclarence dies during labor. Both June and Serena exchange pregnant looks in the flashback as they watch the maidens coo over the child while thinking nothing of the dead mother.
Related: Mayday In Canada Flips The Handmaid's Tale's Darkest Gilead Change
Episode 8 – Motherland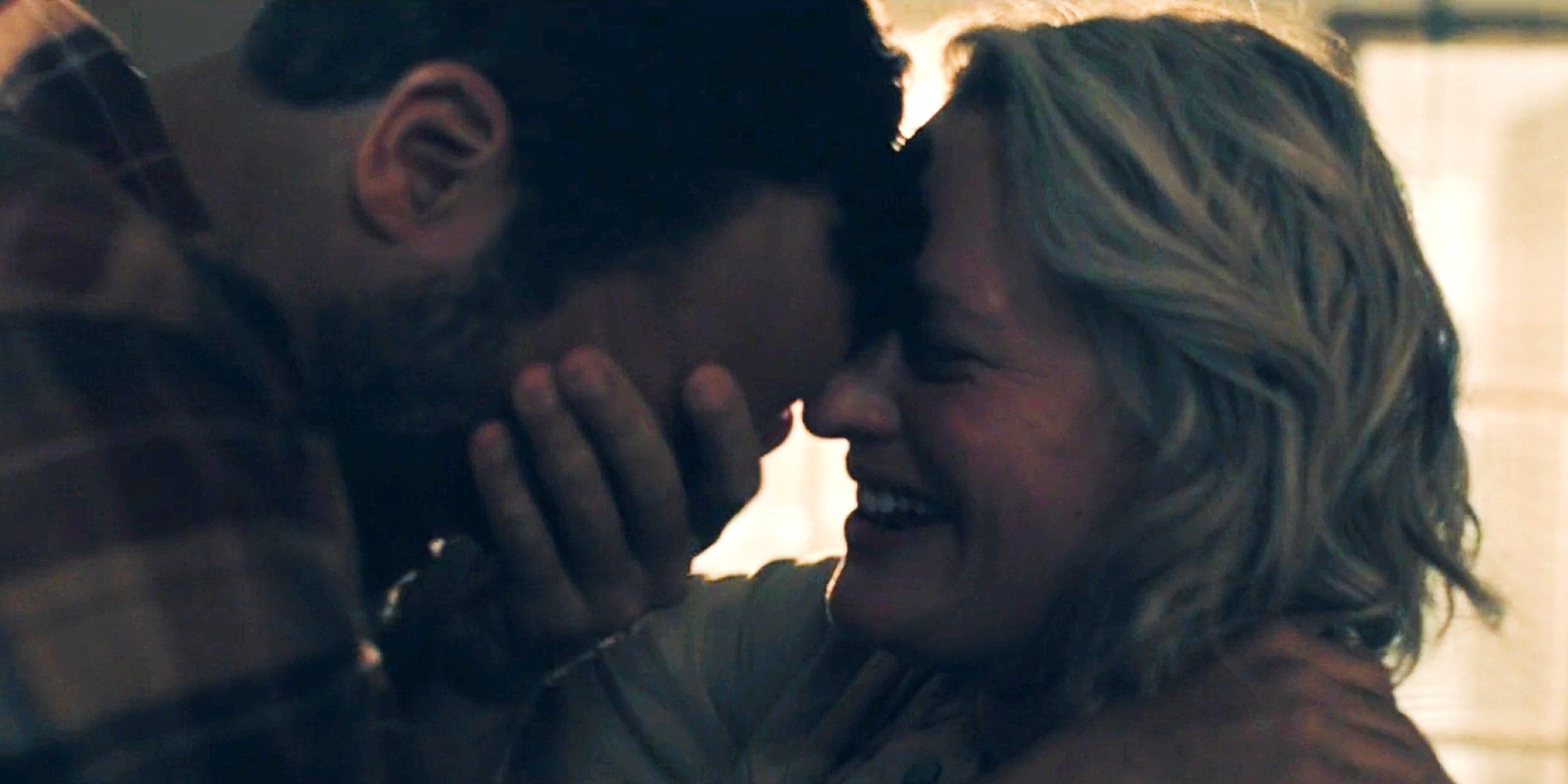 "I'll Be Your Mirror" by Clem Snide – The basic premise of The Handmaid's Tale season 5, episode 8, sees June attempting to get Hannah back, while Commander Lawrence unveils his plans for New Bethlehem and Serena faces a huge choice regarding the Wheelers and Noah. The song "I'll Be Your Mirror" comes at a sweet moment within the episode. At the house where June lives with Moira, Luke, and Nichole, June is given the chance to sing to her child. She sings the aforementioned song and tells her little girl that it was Hannah's favorite. This really hammers home the fact that June's one and only goal is to get Hannah back. It's the focus of The Handmaid's Tale season 5, episode 8, as most of the installment is spent with Lawrence and June discussing New Bethlehem and the possibilities of getting Hannah away from Gilead. It's a sweet and melodic tune that really brings home June's grief over the whole situation.
Episode 9 – Allegiance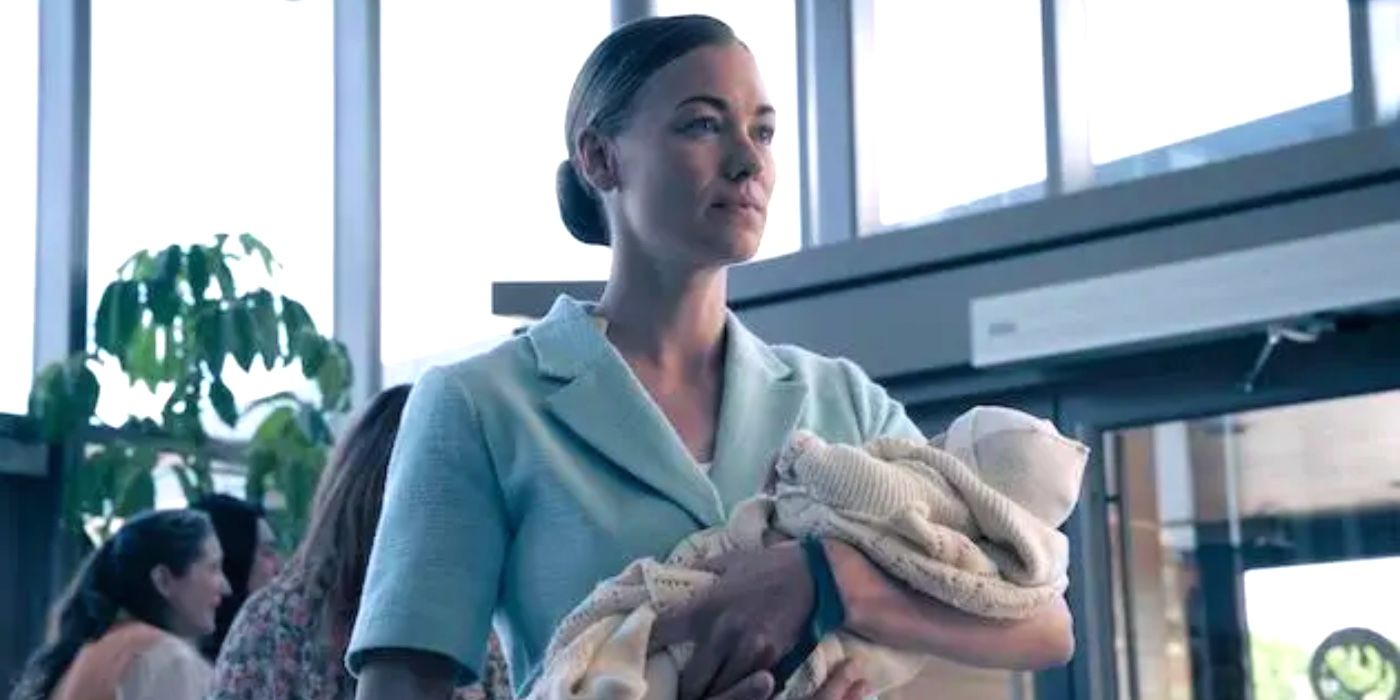 "Tender Romance" by Daryl Griffith – The Handmaid's Tale season 5, episode 9, sees both triumphs and tragedy as Mark Tuello's mission to save Hannah ends horribly while Serena finally decides to take a chance on freedom. The latter half of the episode focuses on Serena and her relationship with the Wheelers, which is becoming increasingly strained as they request that she pump rather than nurse her baby. After convincing Ryan Wheeler to let her attend the opening of a fertility clinic with Noah, much to Alanis's chagrin, she is able to make a brief appearance before the Wheelers tell Serena to go home. While at the fertility clinic with her son, "Tender Romance" by Daryl Griffith plays, highlighting just how attached Serena is to her baby boy.
"Americans" by Janelle Monae – After being told to leave the clinic, Serena is able to convince the Wheelers to let her nurse Noah before leaving. They begrudgingly acquiesce, and the nanny takes Serena and Noah to a side room. It's here that Serena escapes with her son and is able to find a driver on the road to help them towards freedom. "Americans" by Janelle Monae plays in the background as Serena makes her getaway and over the ending credits of The Handmaid's Tale season 5, episode 9.
Episode 10 – Safe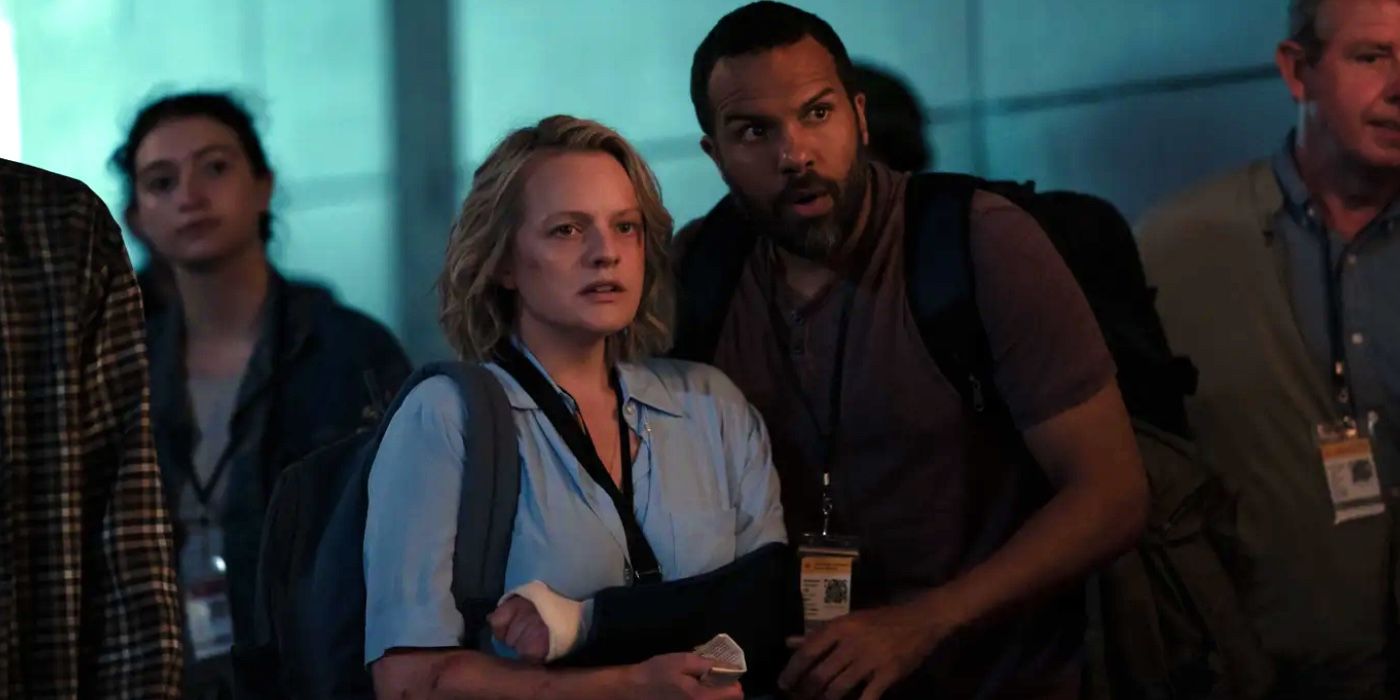 "It's the Hard Knock Life" sung by The Handmaid's Tale cast – In a rare moment of brevity in Gilead, Lydia oversees the Handmaids with Janine while they are cleaning the Red Center. The girls sing "It's the Hard Knock Life" while scrubbing the floor, and surprisingly, they aren't punished for it. While Aunt Lydia lets it slide, the other Aunts aren't so pleased, and one of them reminds Lydia that Janine will need to be re-posted. The moment is small, but in the end, it's a testament to Aunt Lydia's growth in terms of empathy. While not that long ago she wouldn't have let the moment slide, she's allowing a little more leeway with the Handmaids after her reformation.
Related: Handmaid's Tale: Why Some Canadians Support The Waterfords (& Gilead)
"Kokomo" by The Beach Boys – It seems that poor June just can't catch a break, and Gilead will forever be hot on her tail. After a particularly emotional meeting with Tuello, June walks back toward the house when she hears a truck blasting the song "Kokomo" by The Beach Boys. The truck's engine roars, and she tries her best to get back to the house quickly, to no avail. The truck runs her down from behind and then backs up over her, crushing her forearm in the process. It's at this point that audiences are made privy to the fact that there's a Gilead sticker on the back of the vehicle. Luke runs to her rescue and pulls the perpetrator out of the truck and the two get into a knock-down-drag-out fight. While Luke wins the brawl, he also puts the driver in the hospital, leading to the cops putting out a warrant for his arrest.
"Un Homme Et Une Femme" by Francis Lai – On the morning of Lawrence's wedding, Janine and Lydia go to his house. She sadly finds out that Angela will be with her grandparents over the summer, then she is so rudely reminded by Naomi that she is her daughter. In spite of this, Janine manages to keep her cool, until a Martha tells her of the attack on June. "Un Homme Et Une Femme" plays when Janine hears the news. Not long after this Janine loses it on Naomi. The result is, of course, the Eyes show up and haul her away in a van.
"Bury a Friend" by Billie Eilish – After making it on the train out of Canada with Nichole and leaving Luke behind, June tries to find a seat. While perusing the aisles she hears a baby cry, only to see that the source is none other than Serena Joy and Noah. Serena gets the privilege of saying the final line in The Handmaid's Tale season 5 finale: "You got a diaper?" "Bury a Friend" plays at this moment and over the end credits. It's a fitting end for both June and Serena as both are trying to make their way to safety. Serena had by far the most interesting turn of events throughout season 5, and June inevitably suffered the most in her freedom. It'll be interesting to see where The Handmaid's Tale season 6 will take these two women on their respective journeys.
Next: The Handmaid's Tale Season 5 Ending Explained In Full
[ad_2]

Source link