[ad_1]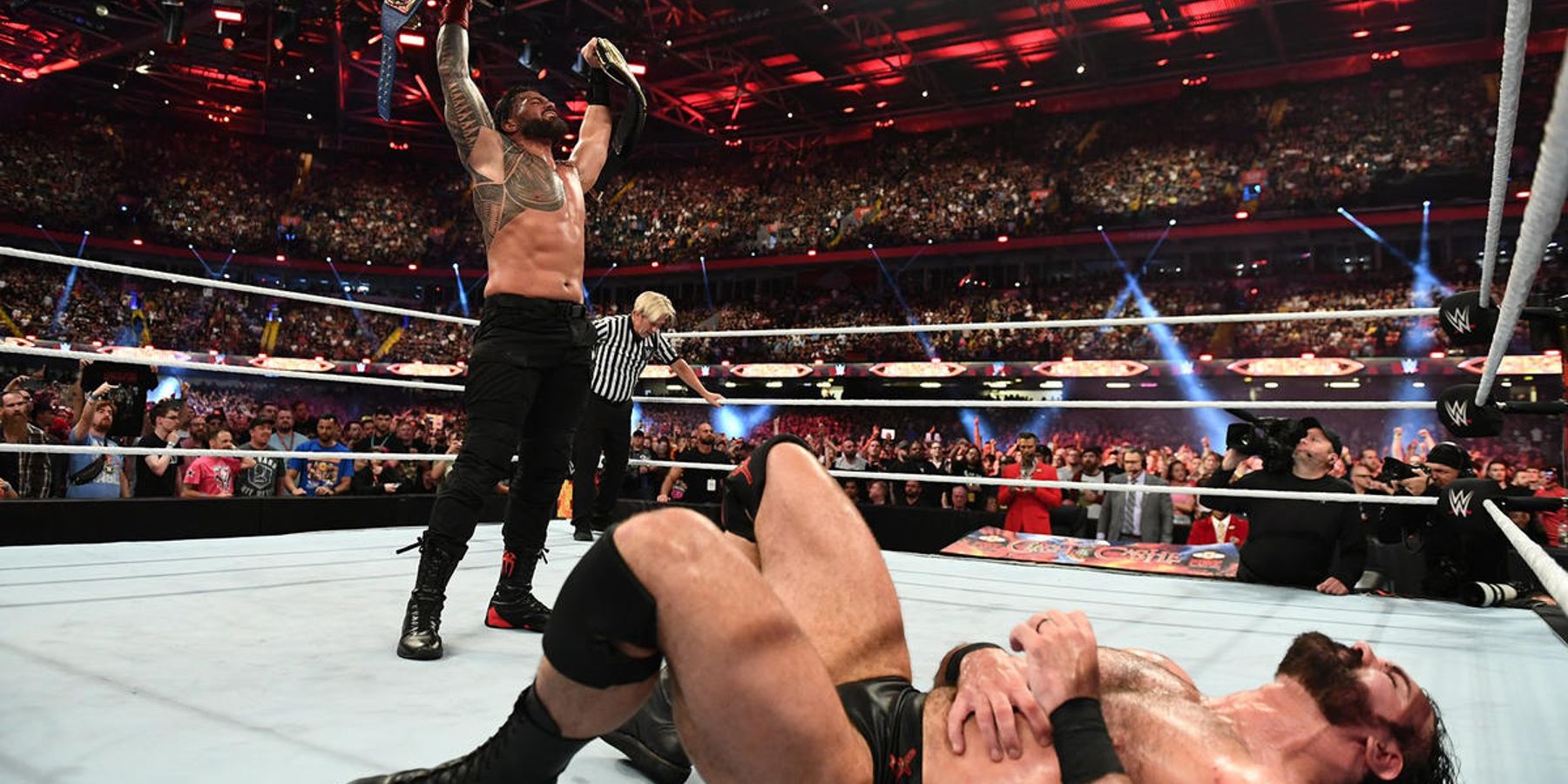 Throughout 2022, All Elite Wrestling has struggled to balance the needs of its homegrown stars against those of ex-WWE talent. Tony Khan has been locked into a damned-if-you-do-damned-if-you-don't booking cycle. AEW's core audience wants to see the wrestlers who have been with the company from day one. Chris Jericho still receives a hero's welcome, Kenny Omega and The Young Bucks are some of the most over talent on the roster, and despite being a heel, Britt Baker is beloved. AEW fans know those people buy into Khan's vision because they signed on when it wasn't a sure thing. Yet growing an audience without household names has proven difficult for AEW, which is why CM Punk was such a boon for the company's growth. To wit: The Voice Of The Voiceless was featured on all five of All Elite Wrestling's highest-earning pay-per-views in history.
There's no magic formula, but if Tony Khan wants a bit of reassurance about his current crop of homegrown stars, he needs to look over to the top of WWE's marquee. Everything seems sturdy now, but most of WWE's top superstars endured years of growing pains and long periods when fans wanted nothing to do with them. It takes pressure and time to create a true star, and while AEW has ways of applying pressure, they have only existed since 2019. It generally takes more than three years to develop a professional wrestler who can draw. It feels like The Rock or Stone Cold Steve Austin were always megastars, but watch this video of them meeting for the first time. No one in the audience cares. If that same stare-down happened today, WWE could sell out open-air arenas based on that one match alone.
Related: Damian Priest Is Crushing Judgment Day Opportunity In WWE
WWE's Card Is Full Of Wrestlers On Their Second Or Third Try
It might be frustrating to watch Tony Khan frequently put acts like Wardlow, Ricky Starks, and Jamie Hayter on the back burner. The feeling is that he never strikes when the iron is hot, especially when it comes to his homegrown stars. Rolling those kinds of wrestlers out week after week is one part of the equation, and there's no denying that AEW needs more air time to go around right now. Not with the ROH roster and belts shoehorned into the equation as well. But it takes time for those performers to figure out what works and doesn't. Consider this: Jamie Hayter has wrestled 40 times total for AEW since October 2019, only 19 of them being singles matches. Liv Morgan has wrestled than many times since July 4. It takes dozens of matches stretched across various shows and tapings to tap into that little extra something that makes fans want to pay their hard-earned money for a pay-per-view.
WWE doesn't have that same concern since they are no longer on the PPV model, but they still need to make their broadcast partners happy. And Triple H makes that happen by rolling out wrestlers like Roman Reigns, Sheamus, Drew McIntyre, The Usos, Sami Zayn, Judgment Day, Liv Morgan, and Ronda Rousey. All of these competitors have something in common: they all dealt with tremendous adversity regarding getting over with WWE's audience. They all have had spurts where they were white-hot, but it took them years, many of them decades, to settle into the show-driving stars WWE fans know and love today.
No One Like Roman Reigns For More Than Half A Decade
There isn't a better example of this than modern-day Roman Reigns. He's the biggest star in the business and will headline every one of WWE's most important shows. The Bloodline has been gold for a while now, so it's easy to forget that no one wanted to cheer Reigns for the better part of six years. For more than half a decade, Vince McMahon tried to figure out how to get his new handpicked star over, and for more than half a decade, fans rejected him. Roman finally started to stick after he went away for a while, came back, wrecked everyone and turned heel.
AEW has a handful of wrestlers with that kind of appear-on-the-Today-Show upside. MJF immediately comes to mind. Hayter is a superstar in the making, as are Ricky Starks, Sammy Guevara, and Britt Baker. All five of those individuals have come a long, long way since 2019, and no one from that group is older than 32. That's a fantastic foundation for Khan and All Elite Wrestling. It will take more time for them to evolve into household names, with which AEW can truly start to boost numbers. They have the talent. All they need is time, matches and opportunity.
Pay-per-view buys have remained healthy, and Jeff Jarrett might be helping Khan get into the house show business. Those generally don't make money, but they are valuable opportunities for wrestlers to hone their character, craft, and matches. Think back to the gap between the workloads of Hayter and Morgan. When WWE fans see Seth Rollins wrestle Matt Riddle on Monday Night Raw, it's a flawless match because they've been working on it throughout the house show circuit for weeks. More chances to wrestle, plus more time to develop characters, will equal ticket and merch movers for AEW. It'll just take a while before anyone can climb to the heights of a Reigns or a McIntyre, mostly because wrestlers have to fail multiple times before finally hitting the nail on the head. There's no The Rock without Rocky Maivia. No Head Of The Table without The Big Dog, and no Stone Cold Steve Austin without The Ringmaster. AEW's cream will rise to the top in due time.
Next: MJF Can Now Be The Villain He's Always Wanted To Be In AEW
[ad_2]

Source link